Come hang out as we celebrate a decade of The Red Raven! The (vegetarian) grillout, beer drinking, and pavement games start at 5 and the show kicks off at 7 with music! -link to FB event page
This Saturday may not be the exact, to-the-day 10-year anniversary of Fargo's Red Raven Espresso Parlor, but as far as those involved with the shop are concerned, it's close enough.
To celebrate a decade in business, the Red Raven will host a party on Saturday, Aug. 22. Kicking off at 5 p.m. and open to all, the event will have a vegetarian grill out, beer drinking, pavement games and entertainment for the whole family in the back patio, including such classics as hopscotch and face-painting.
Live music starts at 7 p.m. with a solid lineup, including Bismarck-band Nora and the Janitors and Fargo bands GALS, Uncle Dad and Suspicion.
Supporting local music, poetry and comedy has always defined the Red Raven, and the week leading up to the bash will be business as usual. Tuesday is comedy night, beginning at 9 p.m. and Friday will feature spoken word performances starting at 8 p.m.
The worker-owned and operated Red Raven was originally the vision of Tim Griffin and Justin Lervik, two coffee shop employees who wanted to create a new shop that did more than sell coffee and pastries. They wanted to provide the F-M area with a "unique, open and accepting establishment," which would provide high-quality coffee and drinks, but also offer the community healthy alternatives, as well as foster local arts and music.
The Red Raven has evolved since opening in 2005, moving from its initial basement space on Roberts Street to the current location in a renovated old firehouse on Main Avenue.
Joe Curry, who's been with the Red Raven since nearly the beginning, noted the shop is one of the longest-running all-ages venues in the area, a capacity that has given the space its own niche in the community. That, and a growing family of patrons.
"We were attracting late high school to college-age kids, giving them a space to feel comfortable in," Curry said of the Red Raven's beginnings.
"Over the past 10 years, the kids who have been coming in since we first opened have grown up, and they have kids of their own now. Now that next generation is coming in too."
Cydney Berlinger, a current Red Raven employee, has been coming to the shop since high school. The shop has always been a perfect place for her to meet with friends, as well as perform with her various bands.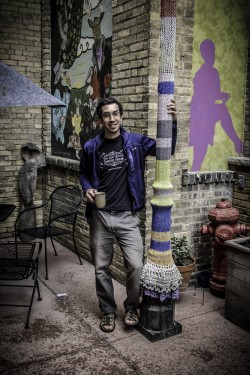 "I started coming to the Red Raven when I was 14, 15," Berlinger said. "All of my friends were coming here because it was the only place we could check out music and be comfortable. It was my dream as a 14-year-old to work here."
Now that her relationship with the shop has changed to that of an employee, Berlinger has been able to better observe what makes the Red Raven truly unique.
"It's been a great space for the arts community in Fargo, and no other place has really been able to do the same thing," Berlinger said. "I feel like here, more than any other coffee shop in town, you see people transfixed in weird conversations, and these will be two strangers sharing ideas. The space invites that sort of conversation."
With art shows, live music, comedy nights and various other events filling up the calendar, and the continuing operation of the coffee shop and collective, it seems the Red Raven gets pulled in a lot of different directions. But that was the initial vision.
"I'm so happy that a place like this exists, where people of all backgrounds, faiths and orientations can come and feel safe and comfortable," Curry said."We just want to continue helping build a healthier community."
And who wouldn't want that? Here's to another 10 years, Red Raven.
IF YOU GO:
Red Raven 10th Anniversary Party
Sat, Aug. 22, 5 to 11 p.m.; music starts at 7 p.m.
916 Main Ave, Fargo
FREE
Pulled from HPR1.com
High Plains Reader story on our 10th