Friends of the Raven: FM Community Bicycle Workshop
by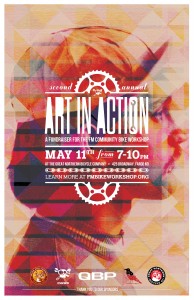 The Raven loves cyclists, and we adore the DIY efforts that the FM Community Bicycle Workshop. We are excited to be a drop point for artists and makers donations to their annual fundraising event 'Art in Action' We will be previewing the items to be auctioned off on our walls May 2nd-10th.
Dig bikes?
Want to meet fellow cyclists?
Need some new art for your walls?
Want to support pedal power for the people?
Make sure you mark your calendar for this great event, May 11th at Great Northern Bicycle Company (425 Broadway in Fargo) have fun and support a great organization that helps deliver empowerment, transportation, and skill share to the people!
more at:
2 Responses to "Friends of the Raven: FM Community Bicycle Workshop"